LASER
Simplicity is Unique.....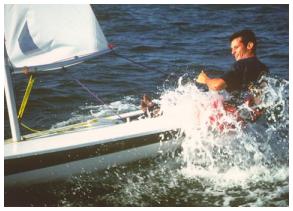 It's no secret that many of the world's top sailors perfected their skills in the Laser. Olympic Medalists, America's Cup Helmsmen, and Collegiate All-Americans all raced the ultimate one-design. With over 100,000 boats constructed to date, the Laser is the Gold standard in single-handed, one-design sailing. The Laser class was built on the philosophy that the sailor wins the race, not the boat. Every Laser in the world is identical. Strict class rules guarantee that it is the sailor, not the equipment, that makes the difference. Laser racing is a true test of skill.

The hull shape, blades, and rig combine to create the ultimate racing machine. The Laser is a challenging boat the rewards athleticism, subtle steering and trimming techniques and tactical excellence. It's no wonder the International Sailing Federation awarded the Laser Olympic status!

Laser sailing is an investment in skills that will last you a lifetime, skills that apply to any boat you choose to sail. Laser sailing is also a community of sailors from around the world who love to race. When you are ready to race, get into a laser.
Specifications: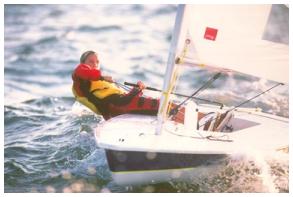 LOA: 13'10.5"
Beam: 4'6"
Sail Area: 76 square feet
Mast Height: 20'1"
Hull Weight: 130 lbs