LASER 2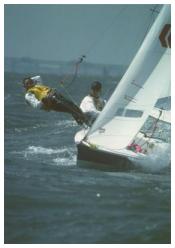 The Laser 2 is an all-out, double-handed, racing machine featuring a trapeze and spinnaker that will challenge sailors of every level. Developed under the same philosophy as the Laser, the Laser 2 is a strict one-design class with a world-class racing circuit and the exhilarating performance to attract top sailors worldwide.

The Laser 2 features an easily driven hull for high-speed planing performance. The two-piece rig and one-design sails provide a simple powerful engine.

With a large spinnaker and a large pole stowed on a boom trolley, the Laser 2 excels off the wind; and, when you reach the leeward mark and prepare to douse the chute, you'll appreciate the built-in bow launcher that gobbles up the chute and stores it for you.
Specifications: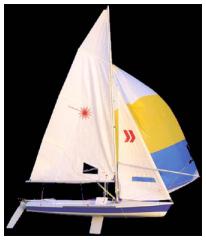 LOA: 14'5"
Beam: 4'8"
Sail Area: 124 square feet
Spinnaker: 110 square feet
Mast Height: 19'2"
Hull Weight: 170 lbs

Features:
Ports with storage bags are water tight for spare gear and food
170 lb. hull and flat deck are ideal for car top transportation
Kick up rudder
Jib leads recessed, eliminates body and gear chafing hardware
Bow tab keeps the sheets from under the bow when the water is flying
Spinnaker pole trolley system stores the long pole along the boom with one hand operation
One-design class sails eliminate the "sailmaker arms race"
High-aspect airfoil blades
Lightweight, planing hull form for control at top end speeds
Spinnaker bow launcher tube and belly cord makes setting and dousing the huge spinnaker a snap