LASER RADIAL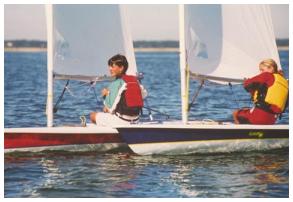 The Laser Radial is the perfect boat for smaller single handed sailors and youth sailors who want to start sailing a Laser, but don't quite have the size to handle it. The Radial uses a standard Laser hull and blades, but a smaller sail and a shorter bottom mast section. The boat has all the performance characteristics of a Laser with a less powerful sail plan. All you need is a new lower mast and sail to make a Laser out of your Laser Radial.

The Laser Radial class is built on the same fundamental philosophy as the Laser class. Strict one-design rules mean that it's the sailor, not the boat that wins the race. Every Laser and Laser Radial is identical. The Radial requires all the same techniques and tools as the Laser, allowing smaller sailors to jump into the competitive world of Laser sailing.

It's no secret that many of the world's top sailors have done lots of Laser sailing. The laser Radial gives even more sailors the chance to join in on the action. So when you're ready to race, get into a Laser Radial.
Specifications: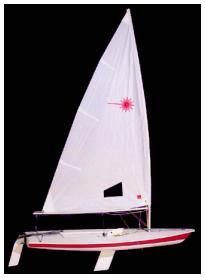 LOA: 13'9"
Beam: 4'1"
Sail Area: 62 square feet
Hull Weight: 130 lbs

Features:
The shorter, bendier lower mast section enables light sailors to depower easily
Smaller radial sail allows smaller sailors to experience laser sailing
Lower aspect rig lowers the sail's center of effort
Radial cut orients the cloth with the loads and improves the sails racing life
Radial sail is 14 sq. feet smaller than the Laser full rig sail
All control lines are identical to the Laser
Replace the bottom mast section and sail to make a Laser out of your Radial