SUNFISH
Is a miracle of simplicity and function.....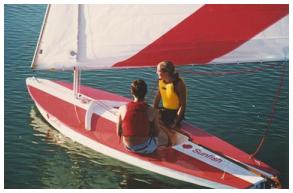 The sailplan requires just 2 lines to control and the boat can be set up in less than 5 minutes. The patented kick-up rudder system allows full beach landings with no problems. The hard-chined hull and low sail plan provide unmatched stability and a forgiving feel. The Sunfish hull is light enough to throw on top of your car with ease, and the bulletproof Vanguard construction ensures that your Sunfish will provide years of virtually maintenance free enjoyment. The Sunfish combines performance, stability and durability in a package that appeals to beginners and experts alike.

If it's racing you crave, the International Sunfish Class has a full time staff that sanctions more than 1000 events each year. Add the hundreds of local and regional events to that list and you can stay pretty busy racing your Sunfish. The class will keep you posted with its quarterly magazine "Windward Leg" and provide valuable performance tips. The elegant simplicity, performance, and intelligent economy of the Sunfish is unmatched. The Sunfish enjoys fantastic resale value.
Specifications:

LOA: 13'9"
Beam: 4'1"
Sail Area: 75 square feet
Hull Weight: 130 lbs

Features:

Convenient storage in the back of the cockpit (Perfect for extra gear or a cooler)
Patented kick-up rudder allows for easy beach launches, landings and shallow-water sailing
Self-bailing cockpit
Aerodynamic daggerboard maximizes upwind performance
Lateen rigged sail

Automatically depowers when hit by a gust of wind
Support on both sides ensures durability
Easy to rig and derig

Stainless steel bow handle

Easy to carry and dock
Easy to hold boat into the wind while launching and docking

Only 2 lines

Simple main halyard: Hoists and lowers the sail in a matter of seconds
Mainsheet: Only control line you need to use